The final album, although that wasn't how it was planned. Alot of years and hard work went to making this album, and it was a credit it to the band that it contained some classic tracks.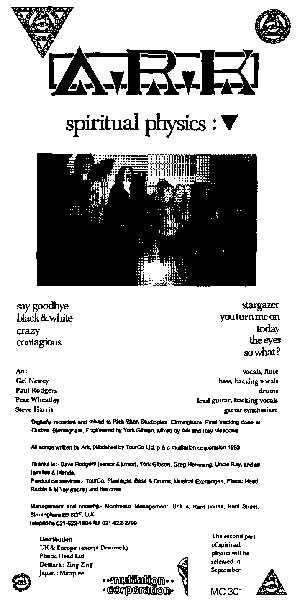 The Liner Notes:
Ant - vocals, flute
Gel Newey - bass, backing vocals
Paul Rodgers - drums
Pete Wheatley - lead guitar, backing vocals
Steve Harris - guitar synthesizer
Digitally recorded and mixed at Rich Bitch Studioplex, Birmingham. Final tracking done at Outlaw, Birmingham. Engineered by York Gibson. Mixed by ARK & Ray Meadows.
All songs written by ARK, published by TourCo Ltd. p & c mutilation corporation 1993
Thanks to: Dave Rodgers (senior & junior), York Gibson, Greg Hemming, Uncle Ray and all families & friends.
Production services: TourCo, Flashlight, Bass & Drums, Musical Exchanges, Plastic Head, Barbie & Mikey (techs) and the crew.
Management and booking: Montreaux Management, Unit 4, Kent House, Kent Street, Birmingham B5 6QF. UK.
telephone 021-***-**** fax 021-***-****
Distribution:
UK & Europe (except Denmark): Plastic Head Ltd.
Denmark: Zing Zing
Japan: Marquee
The second part of spiritual physics will be released in September.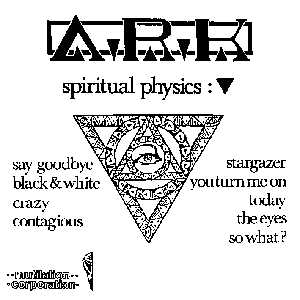 Spiritual Physics took many guises before the current release took place. In all ARK had about 20 songs that they could have recorded. Some were very acoustic, some very Wonder Stuff type indie things, some heavy bits, and the rest typically ARK type rock stuff. The title of the album took a while took come together too, but Spiritual Physics seemed to have the just the right ring about it.
Most of the heavy tracks fell by the wayside, Black & White and So What? surviving. Of the acoustic tracks only Contagious got an official release, although four others were recorded. There was a version of When We Are Free, which although was mixed, unfortunately didn't make the final cut.
A second album had been planned with the remaining tracks from the master tapes to be being mixed, together with some additional recording, any not making the album to be released as b sides to another single. This second album had also gone through some names changes including Physical Spirits (!!), but evenutally got labelled Spiritual Physics : The Black Album, as this release got know as the Spiritual Physics : The White Album. However, this didn't quite work as when the artwork got sent to the printers, although the CD version came out, the negative version had been printed for the cassette. So that scuppered that idea.
There was also a plan to release a box set of the two albums, together with a third album, compiled from various live recording from my personal amassed collection of concert recordings. I have several desk copies as well as some very high quality audience recordings, so the end result would have been quite entertaining.
Also planned was a 7" single of Say Goodbye. All the cover artwork and inserts had been printed, and we were just waiting for the finance to press the vinyl. Unfortunately the band split from the management before all of this could come together. I hope to locate the cover artwork at some point, as it was stunning and deserves to seen.
The tracks recorded for the second acoustic set are lying in a vault somewhere, but the Pete & Ant later recorded some of the tracks for the first Grass album, Cafe Culture. However, Travelling Man and the haunting acoustic version of Monkey On A Stick have yet to be officially released. Thankfully I have a few live recordings of the missing songs, so will upload them at some point in the future.