ARK's next single was also a cassette single, and again only available at gigs and by mail order.
Although officially titled "ARK II", the tape is sometime titled "HANDS DOWN". Featuring the pop single that was to their first vinyl single, Communications, the band added yet another live favourite to the growing list of studio recordings.
There are two covers for the single, the first was for the official release, and the second was for the demo cassette that was sent to venues and magzines, in order for the band to get gigs and reviews.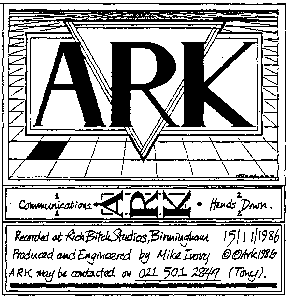 Right is the official release cover, and left is the demo release cover. Below is the promo photo the band the band released with the demo cassette. Lovely boys!