A 12" vinyl single, with a great picture cover. Available through the band, as well as in your local record store.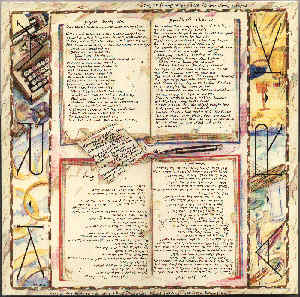 The Liner Notes:
Recorded at T.V.M. Studios, Birmingham.
Engineered by Adrian Shepherd.
Co-produced by Richard (Fez) Ferriday + A.R.K.
Executive Producer Ray Meadows.
Cover concept + Illustration by Stuart Stewell
Typography by Joanne Surman
Copyright A.R.K. 1989
AMA 0104
Special Thanks to TourCo Concert Productions, Birmingham, England and Streetlight Design, Birmingham.
The New Scientist EP made a big impact in the media, thanks to some of the band best tunes and a brilliant cover. The tracks were continually pulled out in the later years of ARK, New Scientist itself being a favourite of Gel's.
Stuart did an outstanding job on the cover artwork. The front depicts the character from "New Scientist", while the 4 corners of the back cover, depict the 4 indiviual tracks. The lovely Joanne also did a great job with the lettering for the lyrics & liner notes too (okay so I'm biased ... but that's another story!)