The next newsletter was a bit of a quick and brief affair, mainly to advertise the Radio One session broadcast and a load of gigs.
Unfortunately the single, "Cover Me With Rain" didn't get a release until 1992. However, it did transform from a 3 track single, into a 7 track EP.
The bootleg video Dan was working on never got released unfortunately, although he still has several recordings, as I do, so maybe in the future I'll upload the odd video clip too.
The Family Newsletter
Late August to November 1991
Highlights of this Fabbo issue:
Rock War Session!
Dreams on CD!
New CD EP!
Poseur!
In depth questions to Pete!
Can you take this excitement, I can't. I think I'll go for a lie down.
Hello Chaps,

Newsletter 3 here alive and kicking as per normal. Hope you're sitting down with your cornflakes and about to read the latest news from the fabbo group ARK, and Uncle Ernie's Bootlace Band.
Rock War

First of all, after winning the Rock War on the Friday Rock Show, ARK bought everyone a drink (except me). Then they recorded 4 songs (3 to be broadcast). We have just found out the broadcast date will be Friday 23rd August, so listen in, OK! The band are hard at work on the next album. For those who haven't seen them for a long time, "Message To The World" is a corker.
New Single

The new single (3 track EP really) "Cover Me With Rain" is due for release on CD in the second week in September, and we need advance orders off you lot. The price is £4.50 inc P&P, a saving of £1.00 from the shops, newsagents, hairdressers, lauderettes or anywhere else you could mention. It's really up to you to help this band work it's way to the top, so send me a cheque ASAP.
The Dreams on CD

Also hundreds of you have had me at gun point for a long time over the CD of "The Dreams Of Mr. Jones". I am happy to say that it is now available, price £10.50 inc. P&P (LIMITED EDITION).
Thank You

Both myself and the band would like to thank everyone who voted in the Rock War, and suffered the exciting tones of TV ("Thank you for calling the Rock War. Your vote for Act 1 HAS been registered!"). We won't ask you to do the same again (well not for a while at least).
The band have also asked me to mention some bands who have supported them in the last few weeks, Galahad, Primitive Instinct and Final Conflict. A big thank you to all these bands.
Poseur

A new feature now takes place in your fabbo newsletter is the Poseur Award. Without a doubt, the first winner is GEL for wearing his Marquee T-shirt everywhere and all the time. I don't know, one Marquee headline and he has to tell EVERYONE!. This months fabbo prize is an empty Banks's beer can (hic!) and the new Jason Donovan album.
Videos

At the moment I am making bootleg video recordings of all the ARK headline gigs and I am hoping to release a compilation early next year. As it is strictly bootleg material, it will only he available to yourselves. The band are in the final stages of putting together a video for Raw Power and MTV. More on this when they decide what they are going to do with it!
Questions

It's Pete's turn for the spotlight, so here's another in depth questionnaire (Eds note. This interview was made by Stella (the Youth's wife), who had a rather prominent cleavage, distracting Pete somewhat).
Favourite Ark Track
The New Way
Favourite Ark track live
Cover Me With Rain
Favourite sock colour
Black
Favourite Drink
Green Death
Idol when a boy
Alice Cooper
Favourite Band
Jimi Hendrix Experience
Favourite Food
Madras Curry
Favourite place
Holland
If female, who would you be?
Emma (his girlfriend, Ed.)
Favourite film
Rocky Horror Picture Show
Favourite TV program
Sumo wrestling
Favourite song
It's So Easy, Guns n' Roses
Favourite Cover version by Ark
Schools Out
Who would you like to be reincarnated as
A Sheik
Favourite MacDonlds item
The door on the way out
What pets do you keep
2 cats, Grendel and Sherwood Forest
Biggest disappointment
Amp blew supporting It Bites
Do you like your nose?
Yes
What is the first thing you would buy given a million pounds
Some drugs (He's only joking here, I think, Ed.)
Who do you most hate
Neil Kinnock
What are your personal phobias
Spiders and eating liver
First album bought
Billion Dollar Babies, Alice Cooper.
Would you strip for a magazine
Yes if paid enough.
What do you call your car/motorbike
Chicken chaser
What do you call your teddy bear
Unlucky
What Is the first thing you could do to improve the world
Give up playing guitar
What would you do if you were not in Ark
Join another band
Can you remember your first Dime bar
No
What Is your favourite newspaper
2OOOAD
Did you enjoy this interview
Yes
Dates for the Diary
Birmingham, Edward's No8, 22nd August.
Croydon, Cartoon Club, 3lst August.
Stoke, The Wheatsheaf, 29th August.
Walthamstow, Royal Standard, 8th September.
Burton, Bretby Country Club, 25th September.
Devises, The Rising Sun. 5th October. (TBC)
Cardiff, Bogiez, 20th December.
Merchandise
Limited Edition "The Dreams of Mr. Jones" Compact Disc.
£10.00 (+5Op p+p). Hurry only a few left and high demand anticpated.
Limited Edition "Marquee Midsummer-night Madness Ark/Galanad t-shirts.
£4.00 (+50p p+p). Less than 15 left.

"Archives." on tape only, £4.00 (+50p p+p).

"New Scientist", 12" vinyl single, £4.00 (+50p p+p).

Available from gigs or the following addresses:
ARK, P.O. Box ####, Halesowen, West Midlands.
The Family, c/o Danny, ## ####-####### ######, Hinckley, Leics. LElO ###.
Bye Bye

That's all for now folks, See you soon (No4, Novemberish).
Dan the Youth
## ####-####### ######, Hinckley, Leics. LElO ###.
ARK play their own style of rock music. They released their debut album 'The Dreams of Mr. Jones' in 1988 followed by the twelve inch single 'New Scientist' in 1989.
ARK have also released various demo tapes including 'Stand Alone' in 1990 and 'Archives 1983-1990' in 1991, the latter demo features six songs from the band's earlier days.
According to Head vocalist and flautist Ant, "the band's objective is to play music with depth and character and not just how bow to current trends", he also adds "on the other hand, I don't think it's clever to ignore what's happening on the music scene right now - and tomorrow, well who knows?".
Other members of the band are:
Steve: Guitar synth.
Pete: Guitar.
Gel: Bass.
Paul: Drums.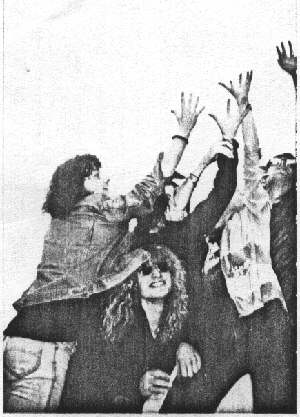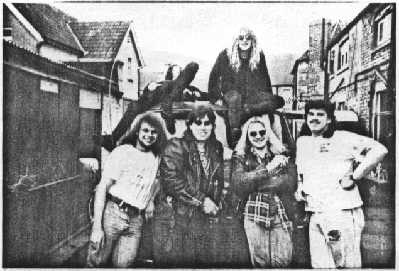 I have better quality photos of the above somewhere. I'll upload them once I find them. However, for the record...
the top photo features (l-r) Paul, Gel, Pete, Ant & Steve on top of Robannas Rehearsal Studios in Birmingham. I did a 36 picture set (or there abouts) of which a few were used for publicity purposes.
the bottom photo features (l-r) Mikey, Pete, Steve, Gel, Ant & Steve VeeDee [that's VD as in Van Driver]. I forget where this was taken, I remember the venue but not the name or town we were in at the time - that's rock 'n' roll for ya!